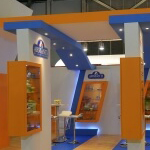 Show: SIAL, Paris.
Background:
A call was taken in the office from the US based client. It transpired that NGM (with head offices in Holland) was planning to exhibit at SIAL in Paris, later in the year. It would be their first ever time exhibiting and were looking to promote awareness of their company and major brands. Initial communications with the US, over many late nights, paved the way for a joint meeting with US and Dutch representatives in Swindon, where three, costed, design options were presented. After a number of changes, including a late amendment request by the Organisers the project was approved.
Brief:
In addition to the corporate element, with a semi-formal meeting area, NGM's three major food brands would need distinct and separate areas, with integrated product and AV displays. Storage was important, to accommodate food samples and promotional giveaway packages.
Pitch:
As a first time exhibitor, a contemporary stand design was proposed, with a strong corporate colour scheme, to present the company as a dynamic and forward looking organisation. Clear lifestyle images were incorporated to further reinforce the brand, while a combination of carpet and vinyl cuts were suggested to differentiate and separate the various areas and products.
A 'friendly but formal', meeting area would be incorporated, along with a reception / meet and greet point, to facilitate business activity and manage customer flow. The overall stand design would allow for minimum refurbishment between shows.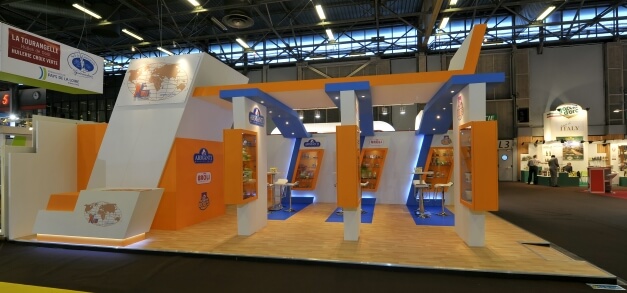 Client profile:
An innovative group dedicated to the export and distribution of fast moving, consumer packed foodstuffs, throughout the world.
How was the experience for you?

"Simple fast and efficient. They made the entire process very easy and worry free. We rarely approve any design upon first presentation and can safely say that they are the first company that got their design instantly approved by our management, on the first presentation. As far as organizing everything to make sure our fair was smooth, they did a great job. The building crew were very friendly and even went above and beyond in helping us take our products to the stand and displaying them. Since I was responsible for putting the entire fair together and organizing the event, I am grateful that they made me look so good. My directors were very happy with the fair and are motivated to do it again! "
What were you looking to achieve from the show?
"Being that it was our first time presenting at the fair we were really looking to attract new business and also let our current partners see the success and growth that we are experiencing. Our stand really stood out from the other stands and got a lot of attention, which is what we wanted. Our partners who were invited were also very impressed with our stand. It really gave everyone a confident and proud feeling to be there and we enjoyed the numerous inquiries we received"
Did the stand meet your expectations?
"Above and beyond. It was exactly the same as the design we approved. The stand looked incredible and everything worked 100%. They thought of every minor detail which we really appreciated. As it was our first time presenting, we did not think of certain things like outlets, refrigerators, parking spots etc., etc., but the team guided us with all these concerns and took care of it for us. They were our one stop shop in every sense of the word".
Jerome Drake – Commercial Representative and Event Organiser, NGM.
https://www.design-shop.co.uk/wp-content/uploads/2016/05/ngm-international-150x150.jpg
150
150
Chris Rogers
https://www.design-shop.co.uk/wp-content/uploads/2020/05/the-design-shop-logo.png
Chris Rogers
2016-05-21 04:39:37
2020-06-03 07:29:26
NGM International