Exhibition testimonials
Nothing is quite as heart warming to us as a testimonial from a client who has had a successful exhibition as a result of working with us. We have provided a few examples below for you to get a flavour of what our clients think of our communication, delivery and overall service. If these testimonials for Design Shop's service leave you wondering what we could do for your business, give us a call. We'd love to hear from you.
Lindt
"The flexibility and modularity of the design have created stand solutions that have worked extremely well throughout the year and have enabled Lindt to attend a total of nine, successful exhibitions, in various size formats. They are a professional, effective exhibition team and provides great service, from supporting our merchandising programme, through to the largest builds."
Andrew Lightowler – Trade Sector Manager
---
Ocean Independence
The Access installation team overcame various, unforeseen, on-site problems, to produce a high quality, visually stunning stand on two levels, which was fully appreciated by the client: "Dear Access boys, thank you so much for all your wonderful help and good humour. We had a great show, thanks to you. I really do appreciate how hard everyone worked and the end result was absolutely great."
Alison Craddock – Marketing Director, OCEAN Independence
---
Titleist and Footjoy
"I want to thank you so, so much for the execution and delivery of our stand. The attention to detail, service levels, care and professionalism was first class. The stand looked amazing! From a Titleist golf ball perspective it was excellent."
Jonathan Dowdell
Titleist Golf Ball Product & Marketing Manager, EMEA
"I think I speak for both brands when I say we were extremely happy with the stand. I have to compliment your build team who seemed 100% in control of the situation and it was great to have a dedicated contact on hand to help with any issues we had whilst at Harrogate."
Russell Lawes
FootJoy Marketing Manager
"Completely satisfied with every level of the build and the effort your team put in to get it finished on the day. Nothing was too much and nothing was overlooked. We've ended up with the most impressive stand at the whole show and received plenty of comments from passers-by to that effect. Everything was of a quality befitting the #1 brands and the set-up team worked quickly and professionally to get the job finished, even helping us stick ball boxes together with sticky tape. Much appreciated."
Matt Swain
Design Manager
---
SUMEC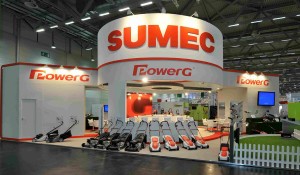 "The complete process from the initial design ideas through to construction was very well managed. All our needs were met in terms of the finished stand and costs were kept within budget! The account management support was excellent and they fully understood the tight timescales we needed to work to with regard to samples, graphics etc. This was refreshing and took a lot of the pressure off during the planning of the exhibition. We had brilliant support in Germany during the build up. Finishing off stands and moving areas to fit new samples that were brought over at the last minute by colleagues from China!! I have to say they really went above and beyond." As you know I was very pleased with the exhibition stand that they designed for the 2012 GAFA exhibition for Sumec. This is an exhibition we attend every two years and it is the only garden power exhibition we attend in Europe. As last time, where we chose a much larger stand space than on previous occasions, we wanted to demonstrate our capabilities as a Chinese manufacturer supplying to key
European retailers. The stand proved a great success with both customers and our colleagues in Europe and China. Everyone was very pleased with the end result, so much so, that the stand is now in storage and we plan to use it at future power tool and garden tool exhibitions throughout Europe."
Vicki Richmond – Product & Marketing Manager, Sumec UK.
---
Descartes
"They have vast experience in what works at exhibitions and were able to contribute to
the brief and deliver a stand that met our objectives.
We wanted to use the event to launch a new service, SmartLicence to commercial road transport operators and position Descartes in the UK as a leader in software solutions for compliance and resource management.
The stand was very professional and solid. We generated over 40 leads which will generate sales."
---
ADAMA
"They clearly understood our brief and created a stand which stood out amongst the rest, helping to elevate our position within the UK agchem market. As a result we succeeded in our objective to raise our profile within the industry and establish ourselves as a leading manufacturer and distributor of crop protection solutions. Together we created a presence at major industry events which has secured Makhteshim Agan UK Ltd., the opportunity to become the main sponsor for CropTec 2014 and 2015, and the BBRO Winter Conference. This has enabled us to reach an audience who may be familiar with our brands, but do not necessarily know of us. From conception through to delivery they have maintained communication and a consistent professional approach while developing a friendly and personable relationship. Design and Build
teams have been helpful, accommodating and are highly skilled, in delivering a complete project. I look forward to developing further projects with them throughout our transition as we rebrand later this
year."
Jo Hams
Campaign Manager
---
LIME
"With regard to the Grand Cayman install, I can sum up in very few words: Professional, timely and excellent service. I cannot fault in any way!"

Simon Daniels, LIME – VP Talent and Learning.
---
NOMA
"They have always been extremely efficient and professional in the way they project manage our attendance at trade shows. Service and expertise is of the highest standard and attention to detail is always excellent". 
Phil Swainston – Marketing Manager, NOMA Lites.
---
Anaergia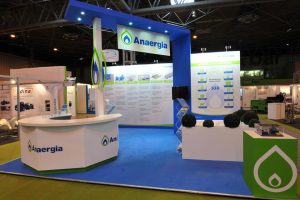 "I just wanted to drop you an email to thank you for the stand out stand! The design is great and the execution of it is spot on.
We had lots of positive comments from other exhibitors and visitors to compliment us on our stand. I have to say it stood out from the rest and hopefully drew in a few more people. My boss was particularly
impressed with the whole look and feel of the stand, it looked very polished – professional and corporate.
Many thanks again Emma for your help and your teams great work"
---
Ecolab
"I just want to say thank you and a job well done, to you personally and the team on set up and breakdown. I know it wasn't the easiest of jobs as we came to you very last minute but your handling of the job in the run up helped it to go as smooth as possible for both Ecolab and myself.
The Ecolab team told me that a few of your guys went above and beyond to help get everything up in time for the show, as well as coming in early for breakdown, which was much appreciated. They also commended the attention to detail and professionalism and I know they were very impressed.
Everyone involved is happy that the job was moved to yourselves this year, so thanks again Becky."