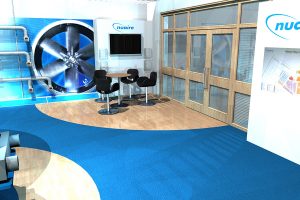 Many businesses have cool websites and great marketing collateral for attracting customers. But they forget that their buildings are part of the customer brand experience. When Nuaire approached us, they found our exhibition design skills helped give their reception design and presentation room real flair.
From reception interior design to an inspiring shop refit; the right impression makes all the difference. Our customers realise that creative interior design is part of their marketing mix and that's why they get in touch with us. You can see this from our great designs below.
Are you looking for more than a lick of paint? Do you want to do something a bit more creative than knocking down a partition wall? Then we are the design team for you. Our clients are those that understand the significance of what a great reception design can bring to their organisation. Or they know how an elegant green room can make their visitors feel before an important meeting.
Here at The Design Shop, we don't do "White Van" building projects and we don't appear on Checkatrade. We are talented creative people with marketing and communication skills, offering practical interior design solutions. In fact, we are a "design shop"!
Come on people, why have a lift when you can have a slide?!
To find out more or to arrange a site visit why not get in touch or if you are just looking for inspiration, browse our gallery below.