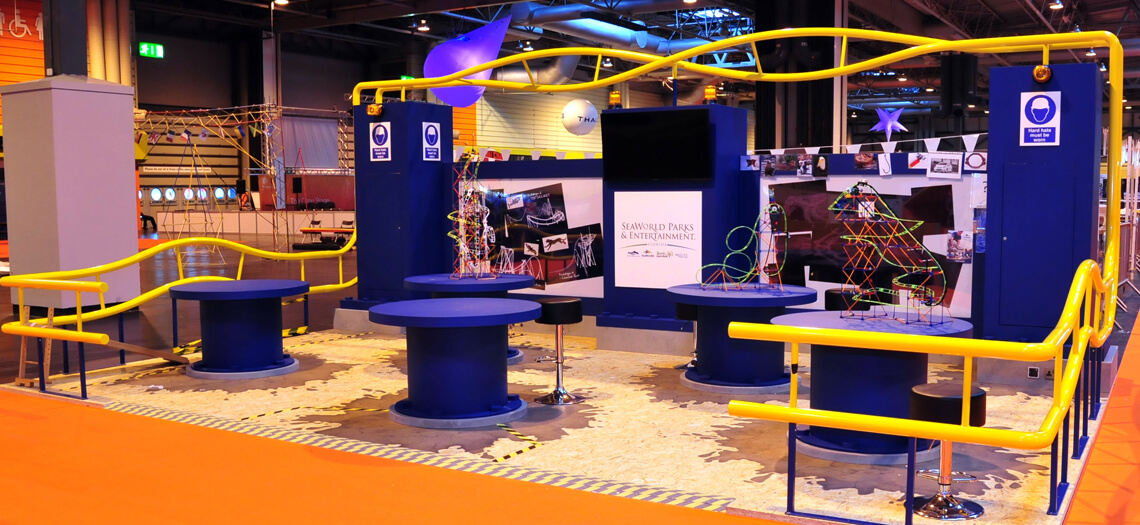 Custom exhibition stands
We all love the feeling of success when an exhibition goes well. The sales and leads have come in and your custom exhibition stand has wowed your visitors. That's your goal and so it's our goal too.
To achieve this, you need a reliable exhibitions partner. You need more that just a typical stand contractor. That's why at The Design Shop, we focus on more than the design and build of your exhibition booth. Our goal is to develop a long-standing partnership with you and we work as a team to get you measurable results from your investment. We understand that our success is based on your success so we strive to ensure your event achieves your goals.
To help you, our expert design team and experienced exhibition planners are on hand to take your ideas from concept to reality.
From the earliest stages of the design through to build (anywhere in the World), we have a proven track record that means our clients come back to us, time and time again.
Do you need a specific booth design? Jump to the galleries of our Exhibition Stands by size to see what we can do. Did you know we also do Double Decker exhibition stands?
To get our partnership off to a great start, we do more than just take your brief. Our package includes:
An initial meeting to introduce ourselves, take a brief and discuss what your marketing strategy, goals and objectives are and how we think we can help build on your company's success
Researching your brand and marketplace position
Presenting solutions we believe are best for your company and its goals
Helping you engage with your visitors through staff training, games and digital interaction
Proactively researching potential shows for the future and reporting on competitor activity.
When you choose us, you are buying over 25 years worth of experience. Our clients know they can rely on us to recommend the best solution for their businesses. When they tell us they know they have chosen the right company to look after their exhibiting programme, we feel honoured. If you are looking for experts in exhibition design, build and planning and you want a supplier who takes time to get to know you and your business, give us a call on +44 (0)1793 489970.
Understanding your business
The more we understand about you and your business, the easier it is to create your stand design. This gives us the foundations to support and guide you in all areas of exhibiting.
So we can provide you with a high impact exhibition stand, we need to understand your brand identity and what you're looking to achieve during your event programme. Ideally we would do this face to face, but we're happy to discuss by telephone as well.
The Brief
We don't expect you to commit to us right away, that's why we prefer to meet face to face. This gives you an opportunity to get to know who we are, and allows us to present the capabilities of The Design Shop; and why choosing us for your exhibiting needs would be a great decision for your business.
If a meeting is not convenient, you can also send us your "stand brief" which will help us obtain some of the information we need. Then we can arrange an online discussion through email, Skype or Viber.
Stand Design
Once we have an understanding of where your company sits in your marketplace, we will get the creative juices flowing and offer you a stand design which we can talk through with you, so you can picture the finished product and convey your thoughts. Our stand designers will explain why they have included certain features or why they have used particular materials or finishes that enhance the design. Animated designs are available subject to budget and competitive tender. All designs are subject to copyright.
Dedicated Project Manager
For all of our exhibition stands, we provide a dedicated project manager, qualified to degree level in Event Management or Prince2 qualification. They will be on call whenever you need them. They will offer help and support and answer any queries you have about your exhibition stand and the show; all with a view to make your event as streamlined and stress free as possible.
Regulations and Red Tape
The Design Shop follow all the regulations to the letter, and strictly adhere to the eGuide, a set of rules & regulations that govern what can and cannot be done in the exhibition industry. With a thorough understanding of this guide along with the newly introduced CDM regulations, The Design Shop works closely with the organisers and relevant industry professionals to ensure you receive not only a visually engaging and practical exhibition stand, but a safe and fully insured one too.
What is the eGuide?
The eGuide is an ever-evolving document developed by authorised professionals advising of standards of health, safety, operation and management within UK event venues.
Award-winning Exhibition Stands
Over the years we have won many Awards on behalf of our clients, but our biggest accolade is when our clients thank us for marking their exhibition experience such a success.
Small Exhibition Stands – Up to 20m²
Medium Exhibition Stands – 20m²-50m²
Large Exhibition Stands – 50m²+
Double Decker Exhibition Stands
Case Studies
If you'd like to know more about some of the work we've done, including client feedback, please contact us to start talking about the ways we can work together.