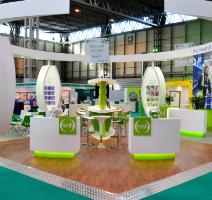 6 major shows over 3 years
Client: Institution of Occupational Safety and Health
Show programme: 6 major shows over 3 years.
Background:
A 'Request for Proposal' was sent out, by the client, to 36 companies and after a series of reviews, evaluations and interviews, they were chosen to undertake the design, construction, installation, removal and storage of the stand, which was to be used for the first time at the IOSH 2012 Conference and Exhibition at Manchester Central.
Brief:
We were asked to design a new stand with specific areas to accommodate five separate departments and their varying needs. These were to be integrated seamlessly, without prominent segregation. In addition, the design was to be flexible enough to accommodate a 30 seat theatre area for one of the shows, while having lots of easy access storage and high visibility branding.
Pitch:
The structure proposed with aerial links, would make the most of the height available and would give a very open feel to the stand. A central reception area would ensure a welcoming point for all visitors, while the main supports would provide ideal locations for strong branding opportunities.
Overall a very flexible design with modern, eye catching looks.
Client profile:
Founded in 1945 and with more than 39,000 individual members, IOSH is the biggest professional health and safety organisation in the world.
"In awarding the contract we were looking for the supplier who most closely met our detailed brief and demonstrated that extra creativity and vision.
We were very impressed with the outcome, it lived up to all our expectations and to build a 144sq.m stand of such quality, on site in the limited time available, was testament to the expertise of the whole team. I have listed below some of the many comments received from colleagues"
Collette Walley, IOSH Events Manager.
"The stand was really impressive – and it was very striking and the design was
interesting"
"I really like the overall concept of the new stand"
"IOSH stand was great loved it"
"Looked good and professional. Stand was excellent"
"The stand was well laid out"
"IOSH stand was very impressive delegates loved it"
"It looked professional and was large"
"Overall stand looked fresh and attractive and professional"
https://www.design-shop.co.uk/wp-content/uploads/2016/05/iosh-150x150.png
200
212
Chris Rogers
https://www.design-shop.co.uk/wp-content/uploads/2020/05/the-design-shop-logo.png
Chris Rogers
2016-05-18 13:39:29
2020-06-03 07:31:09
Institution of Occupational Safety and Health