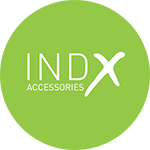 Like many popular fashion related exhibitions, INDX Accessories has a Spring/Summer and Autumn/Winter event. The Spring/Summer event takes place in April, and the Autumn/Winter event takes place in October.
INDX hosts over 85 brands covering accessories and luggage, including stands from independent retailers, department stores and fashion and gift boutiques.
The event offers free visitor parking, admission, refreshments and complimentary lunch.
Designed to meet the varied requirements of today's independent retailers; from department stores to fashion and gift boutiques, INDX Accessories is proud to be supported by industry leaders and established names as well as being dedicated to providing a platform for smaller emerging labels and new to the UK, international ranges.
Take a look at the exhibition stand we designed and built for NV Bags, which won the Best Stand at Show award!
If you feel you'd like to exhibit at this show or have already booked your space, get in touch with us today. Also you can call us on 0800 404 5851 to see how we can help with your exhibition requirements.
Exhibition stands at INDX Accessories