Futurebuild (formerly Ecobuild)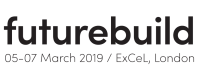 Futurebuild (formerly Ecobuild) features a range of interactive attractions, demonstrations and also seminars. All created with sustainable design, construction and energy in mind.
Below are some exhibition stands we have designed and built for the show. If you feel you'd like to exhibit at this show or have already booked your space, get in touch with us today. Also you can call us on 01793 489970 to see how we can help with your exhibition requirements.
Exhibition stands at Ecobuild